Vademecum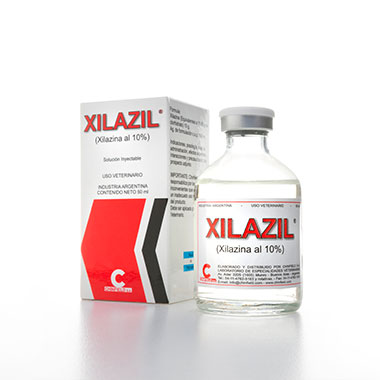 Xilazil (Xilazine 10%)
Sedative and analgesic
Benefits:
XILAZIL® is an invaluable assistance in the professional-animal relation, both when it is necessary to manage animals with aggressive characteristics, as well as when it is necessary to produce an important degree of analgesia and relaxation. It is characterized for a short period between the intravenous application and the appearance of the effect, wit sedation duration of approximately 1 to 2 hours and an analgesic activity between 15 and 30 minutes, depending on the dose.
Indications:
To produce sedation and analgesia. As preanesthetic of the general anesthesia. In diagnostic procedures: oral, ophthalmic, otic, vaginal examination. Rectal palpation.
Nasogastric, vesical probing. Imaging diagnosis (X-ray, ultrasound, gastroscopy). In shoeing and hoof trimming maneuvers. In minor surgeries requiring only sedation and mild analgesia: cleaning and stitching of wounds with or without association of local anesthetic, opening of abscesses.
Target species:
Sport and working equines not intended to human food consumption.
Posology, dosage and administration:
Intravenous: 0.5 ml every 50 kg
Intramuscular: 0.5 – 1 ml every 50 kg
If necessary, dosage may be repeated according to the Veterinarian's criterion.
It is recommended to use half the initial dose, and if a third application were necessary, use half the second dose.
Presentation:
Ampoule bottle x 50 ml.
Formula:
Xilazine …………………………………………………………. 10 g
Formulation agents q.s. ………………………………. 100 ml
The product must be applied by a Veterinary Doctor.