Vademecum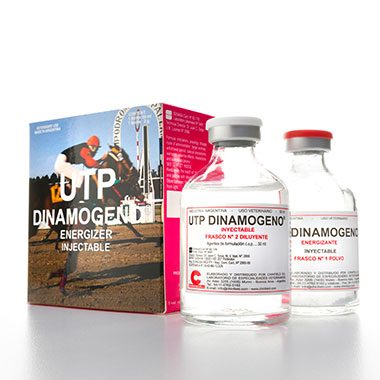 UTP Dinamogeno
Total muscle stimulant
Benefits:
The main energy source used anaerobic muscular work comes from glucose degradation and this degradation is performed through a chemical mechanism in which, mainly ATP and UTP operate, to which reduced gluthatione is added, and which, due to its activity as redox system, participates in muscle contraction. UTP DINAMOGENO® facilitates and activates muscle work, and consequently, the animal may use all its potential, at the same time it keeps an energetic reserve that enables the animal to keep the performance level constant throughout the event.
Indications:
Immediate preparation for the event. Overtraining. Physical exhaustion. Antitoxic. Neuromuscular tonic and whenever it is necessary to increase the working level.
Target species:
Sport and working equines not intended to human food consumption.
Posology, dosage and administration:
Administer SLOW Intravenous injection, 10 ml every day (5 consecutive days) prior to the event or according to the Veterinarian's prescription. With a sterile syringe, transfer the solvent into the powder vial and shake until dissolving. The dose may be administered diluted in a saline sachet.
Warning:
Once the solution is prepared, store in the fridge during no more than 15 days. Do not mix other medications.
Presentation:
Package containing 1 vial powder of 2 g and solvent vial: 50 ml.
Formula:
Ampoule bottle Nro.1: (POWDER 2 g)
UTP ………………………………………………….. 100 mg
ATP ………………………………………………….. 600 mg
Reduced Glutathione ………………………. 600 mg
Anhydrous glucose q.s. ………………….. 2,000 mg
Ampoule bottle Nro.2: (SOLVENT 50 ml)
Formulation agents q.s. …………………….50 ml
The product must be applied by a Veterinary Doctor.