Vademecum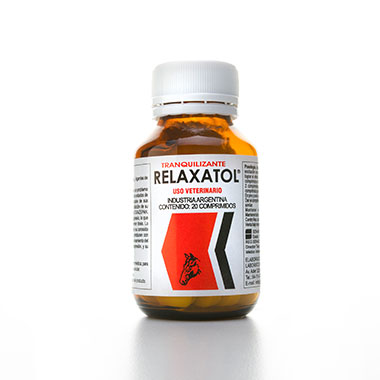 Relaxatol
Oral Tranquilizer
Benefits:
RELAXATOL® tranquilizes the animal, without interfering with its psychic or muscular functions. It does not affect the performance potential.
Indications:
Excitement status of any nature. To calm animals that just start their treatment, for transport, medical examination, to facilitate services and births. In pre and post operative.
Target species:
Sport and working equines not intended to human food consumption.
Posology, dosage and administration:
Animals with constant excitement status: 2 to 3 tablets once or three times a day, until obtaining the desired effect.
For transport and medical examination: 2 to 3 tablets two hours before.
To facilitate mating in males: 1 to 2 tablets two hours before.
In pregnant females: 1 tablet per day, ten days before labor.
In pre and post-operative: 1 tablet every 4 to 6 hours.
Supply the tablet pulverized and mixed with honey, molasses or they like at the time.
Presentation:
Vial containing 20 tablets. Threaded cap with tamper-evident seal.
Formula:
Oxazepan ……………………………………………………. 10 mg
Methionine ………………………………………………….. 10 mg
Magnesium hydroxyde ………………………………. 30 mg
Formulation agents q.s. …………………………….. 100 mg
The product must be applied by a Veterinary Doctor.