Vademecum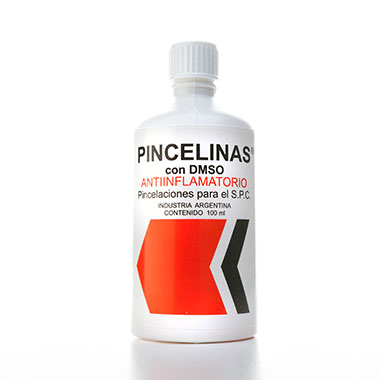 Pincelinas con DMSO
Antiinflammatory external use.
Benefits:
PINCELINAS CON DMSO is a medication against inflammation and associated pain, that combines a corticoid with marked decongestive activity with a new derivate of iodine having powerful analgesic action. These drugs, locally applied, are totally absorbed and pass into the blood circulation helped by the skin-penetrating activity of the DMSO, which modifies the skin permeability in the sense of enabling the access to drugs through it, and later absorption by the capillaries of the brushed region.
Indications:
Localized inflammatory processes. Blows. Swelling. Dislocations. Muscular and joint pains.
Target species:
Sport and working equines not intended to human food consumption.
Posology, dosage and administration:
First wash the affected area with water and soap, brush in circular sense, in the sense and against the sense of the hair for about 5 minutes. Wait for half an hour and leave the area uncovered. Repeat the brushes every 2 or 6 hours, as needed or according to the Veterinarian's criterion, until the process cure.
The applications are made with brushes, hairbrushes or cotton swabs.
Presentation:
Bottle x 100 ml and 250 ml.
Formula:
Triamcinolone ………………………………………….. 30 mg
Iodine ……………………………………………………….. 227.4 mg
Methyl salycilate ……………………………………… 272.6 mg
DMSO (dimethylsulphoxyde) …………………………. 30 g
Formulation agents q.s. ………………………………… 100 ml

The product must be applied by a Veterinary Doctor.