Vademecum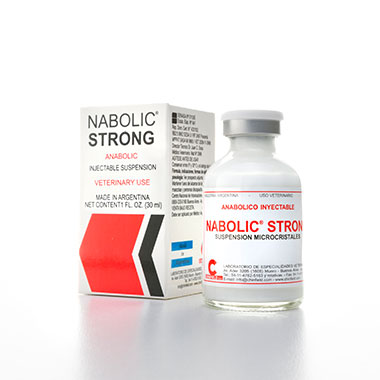 Nabolic Strong
High concentration injectable anabolic
Benefits:
NABOLIC STRONG is an injectable anabolic based on stanozolol, especially designed for top competition equines. Its high concentration (50 mg x every 1ml) gives it high anabolic power, and enables to extend the time interval between applications. Stanozolol is characterized by a high anabolic capacity and the lowest androgenic capacity among all the steroid anabolics, a feature that positions it among the best anabolics for equines.
Indications:
Nabolic Strong is indicated for the recovery of bodies deteriorated by aging, diseases and their convalescences, traumatic injuries or excessive work. I is a useful help in cases of fractures, orthopedic problems, muscular dystrophies and bone deficiencies in general. It is also indicated as appetite stimulant and to increase power and vitality.
Target species:
Sport and working equines not intended to human food consumption.
Posology, dosage and administration:
1 ml every 100 Kg weight (50 mg of stanozolol x 100 kg) to a weekly interval, or 2 ml every 100 kg weight (100 mg of stanozolol x 100 kg) every 15 days. The treatment may be continued during 4 weeks or according to the Veterinarian's criterion. In clinical treatments, many animals do not require more than one or two doses to obtain the expected therapeutic results. Nabolic Strong should be administered exclusively by deep intramuscular route, performing the aspiration test, to be sure of avoiding the intravenous route. To take the best advantage of the product, it is recommended the concomitant use of Aminoacids Vit to favour protein synthesis.
Presentation:
Ampoule bottle x 30 ml.
Formula:
Micronized stanozolol …………………………………………….. 5 g
Formulation agents q.s. ………………………………………….. 100 ml
Warning:
Do not administer to pregnant mares, stallions during reproduction period, or equines destined to human food consumption. Do not administer in case of malignant tumors. Do not administer together with adrenocorticotrophic hormones and corticoids. Do not overdose.
In case of hypersensitivity, administer the consequent treatment.

SHAKE BEFORE USE TO OBTAIN A HOMOGENEOUS SUSPENSION.

The product must be applied by a Veterinary Doctor.