Vademecum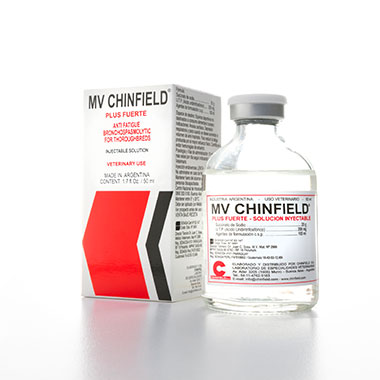 MV Chinfield
Cardiorespiratory stimulant – Defatigant Bronchodilator
Benefits:
MV Chinfield® is a respiratory stimulant. It directly acts stimulating the respiratory center and the saturation degree of the hemoglobin, which derives into a defatigant. MV Chinfield® increases the volume of air inspired progressively, and its effect lasts for several hours. No secondary reactions have been observed with its prolonged use, and it can be administered as many times as necessary without causing addictiveness, always with the Veterinarian's prescription.
Indications:
Cardiac anoxia. Respiratory depression and when it is desired to increase the volume of inspired air.
To reduce the fatigue produced by greater physical effort. Coadjuvant of treatments to avoid effort-induced hemorrhages (exercise-induced pulmonary hemorrhage). MV Chinfield® is also indicated in cases of respiratory allergy reactions due to straw beds, wooden shavings and different stable allergens that may appear in sensitive horses.
Target species:
Sport and working equines not intended to human food consumption.
Posology, dosage and administration:
10 ml once or more times a day, or according to the Veterinarian's criterion, or as needed. SLOW intravenous injection.
Presentation:
Ampoule bottle x 50 ml.
Formula:
Sodium succinate ……………………………………….. 20 g
UTP ……………………………………………………………… 200 mg
Formulation agents q.s. ……………………………… 100 ml
The product must be applied by a Veterinary Doctor.