Vademecum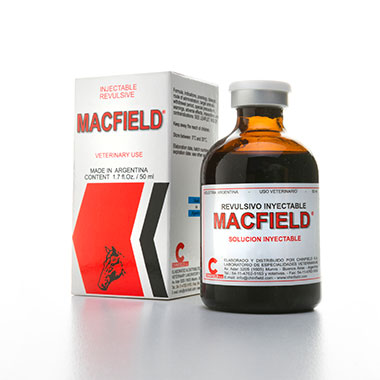 Macfield
Injectable Revulsive
Indications:
Chronic inflammations. Muscular distensions. Tendon and ligament efforts. Periostitis.
Sacroiliac subdislocation. Chronic arthritis.
Target species:
Sport and working equines not intended to human food consumption.
Posology, dosage and administration:
2 to 5 ml per application site on the affected area or according to the acting Veterinarian's prescription.
7 to 10 ml of separation between sites. Subcutaneous or intramuscular route. Apply massage over the injected area with the hand, in the hair sense, for 5 minutes.
Presentation:
Ampoule bottle x 50 ml.
Formula:
Resublimated iodine ………………………………… 1,200 mg
Formulation agents q.s. …………………………… 100 ml
The product must be applied by a Veterinary Doctor.