Vademecum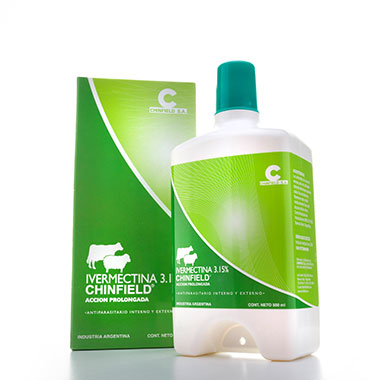 Ivermectina 3,15% Chinfield
Endoparasiticide and Ectoparasiticide
Indications:
Broad spectrum dewormer against endoparasites and ectoparasites in bovines.
Target species:
Bovinos.
Posology, dosage and administration:
1 ml every 50 Kg of live weight.
SUBCUTANEOUS INJECTABLE ROUTE.
Bovine: on the flabby part of the neck, in front or behind the shoulder.
Precautions:
DO NOT APPLY BY INTRAMUSCULAR OR INTRAVENOUS INJECTABLE ROUTE.
Do not administer to nursing animals.
Do not administer to pregnant females close to labor.
Do not administer to animals under four months old.
Do not administer to animals with fever or in severe malnutrition condition.
The product must be stored in its original package and container, in a cold and dry place, and away from sunlight.
Precaution when storing.
The remains as well as the package, once used, should be disposed not to damage the ecosystems (water streams,etc.) and no to be dangerous for Public and Animal Health.
It adversely affects fish and other aquatic animals.
Keep the product away from children, elderly people and other irresponsible persons.
Pre-slaughtering restriction time after application: in animals whose meat is intended to human food consumption, do not use 122 days before sacrifice.
Presentation:
Bottle x 50, 100, 250, 500 ml.
Formula:
Ivermectin ………………………………. 3.15 g
Formulation agents q.s. ………….. 100 ml
The product must be applied by a Veterinary Doctor.