Vademecum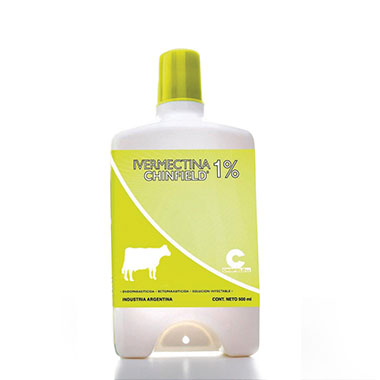 Ivermectina 1% Chinfield
Endoparasiticide and Ectoparasiticide
Indications:
Broad spectrum dewormer against endoparasites and ectoparasites.
Target species:
Bovines.
Posology, dosage and administration:
Bovines: 1 ml every 50 klw.
Subcutaneous injection in lax skin areas.
Bovines: preferably, on the flabby part of the neck or behind the shoulder.
Pre slaughter restriction time after the application:
BOVINES: 35 days.
Presentation:
Bottle x 50, 100, 250, 500 ml.
Formula:
Ivermectin ………………………………………………… 1g
Formulation agents q.s…………………………….. 100 ml
The product must be applied by a Veterinary Doctor.