Vademecum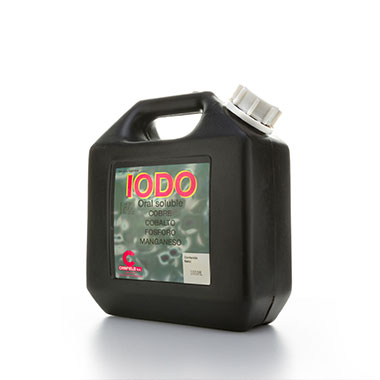 Iodo Oral
Soluble Additive mineralizing supplement
Benefits:
Coadjuvant in case of need for increasing Iodine, Copper, Cobalt, Phosphorus and Manganese during pregnant, breast-feeding, growth, fattening, convalescences, pre labor and pre service, pre and post weaning.
Indications:
Due to deficient pastures or impoverished soils, or digestive tract disorders that prevent proper forage assimilation. To correct deficiencies in copper, cobalt and manganese. To favour protein synthesis, enabling a positive balance. ANIMALS EXPERIENCING SHORTAGES.
Target species:
Sport and working equines not intended to human food consumption, bovines, pigs, sheep, and goats.
Posology, dosage and administration:
Dilute 1 litre of the product in 10,000 litres of drinking water.
Before, during and after preparation:
Take into account the amount of water where it is to be diluted.
During use: the container where the dilution is made, should not have water entry, in order not to change the concentration.
After use: take all the precautions for replacement in the sense that no empty water containers are left. Leave certain portion of water already treated and, when leveling again, keep the suitable concentration at the time of replacement. Maximum duration of use after its preparation: 40 days.
Presentation:
Plastic container x 5000 ml and drums x 200 litres.
Formula:
Every 100ml, it contains:
Iodine …………………………………………………………………. 0.3 g
Copper sulphate………………………………………………… 0.6 g
Cobalt chloride ………………………………………………….. 0.3 g
Phosphorus (as Sodium Glycerophosphate) ………… 1 g
Manganese sulphate ………………………………………… 0.65 g
Formulation agents q.s. ……………………………………. 100 ml
IMPORTANT:
SHAKE WELL BEFORE USE.
The product must be applied by a Veterinary Doctor.