Vademecum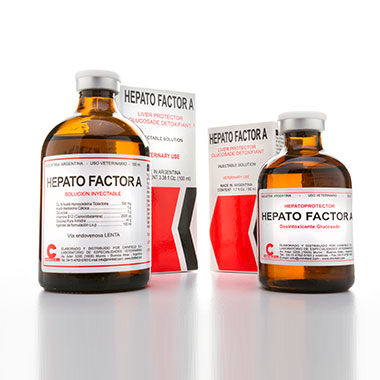 Hepato Factor A
Liver protector – Lipotropic – Detoxifier
Benefits:
HEPATO FACTOR due to the suitable combination of its active ingredients, regularizes, stimulates and protects liver function in all its aspects: detoxifier, lipid metabolizer, protein genetic and antianemic. This overall stimulation of the liver function persists after the completion of the treatment, because it triggers biological mechanisms that once started up, are normally kept for a long time.
Indications:
Liver failures. Medicament or food intoxications. Convalescences of infectious diseases. Lack of appetite. Training and overtraining.
Target species:
Sport and working equines not intended to human food consumption.
Posology, dosage and administration:
10 a 15 ml daily during at least three days or according to the Veterinarian's prescription. SLOW intravenous injection.
Presentation:
Ampoule bottle x 50 and 100 ml.

Formula:
DL-N-Acetyl-Homocysteine-Thiolactone…………….. 500 mg
Calcium Acetyl-methionine …………………………………….. 5 g
Glycine ………………………………………………………………… 5 g
Vitamin B12 …………………………………………………. 2.000 ug
Pure anhydrous glucose ………………………………………. 40 g
Formulation agents q.s. ……………………………………. 100 ml
The product must be applied by a Veterinary Doctor.