Vademecum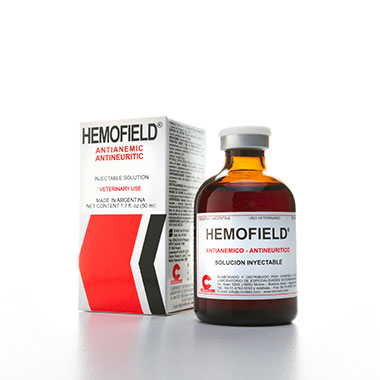 Hemofield
Antianemic and Antineuritic
Benefits:
Antianemic and Antineuritic, they are an efficient vitamin therapy to achieve quick recovery in non-ferropenic anemias.
The efficient combination in its formula of Folic Acid, essential in the synthesis of desoxyribonucleic acid, and therefore in the eritropoyesis, an essential growing and maturity erythrocyte factor, together with Vitamin B12, the "antianemic" vitamin and Vitamin B1, the antineuritic vitamin par excellence, make HEMOFIELD® the choice therapy when the equine athlete's performance lowers without evident reasons accounting for it, when overtraining is suspected, or when the blood test gives subnormal values in the red cell count.
Indications:
Antianemic. Antineuritic. Vitamin therapies. Animals exposed to infectious or parasitic diseases causing anemias.
Target species:
Sport and working equines not intended to human food consumption, canines.
Posology, dosage and administration:
Growing equines: 2.5 ml every 100 kg of weight daily.
Adult equines: administer 10 ml daily.
Canines: 1 ml every 25 kg of weight daily.
Administer, preferably, by SLOW intravenous route. It may also be administered by intramuscular route.
Presentation:
Ampoule bottle x 50 ml.

Formula:
Folic acid …………………………………………………….. 0.1 g
Vitamin B1 ………………………………………………….. 10 g
Vitamin B12………………………………………………… 0.2 g
Formulation agents q.s. …………………………….. 100 ml
The product must be applied by a Veterinary Doctor.