Vademecum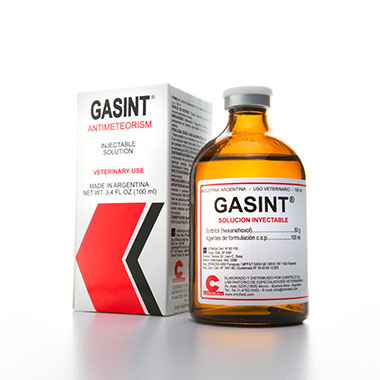 Gasint
Intestinal gases release – Filling therapy Bloating Timpanism
Benefits:
GASINT® reduces the surface tension of the gastrointestinal content. Thus, the gases formed gather in large bubbles and are easily released. GASINT® may be used during the preoperative and postoperative as prevention to avoid gases formation or when the first symptoms of abdominal bloating appears.
Indications:
Gases production and retention throughout the entire gastrointestinal tract, meteoric, bloating, abdominal pre and post-operative, etc.
Target species:
Sport and working equines not intended to human food consumption.
Posology, dosage and administration:
100 ml, twice or three times a day according to the Veterinarian's prescription. The second dose may be administered two hours after the first one. In case of abdominal surgery: 100 ml eight hours before the operation. After it, repeat every two or four hours, as needed and according to the acting professional's prescription.
Exclusively QUICK intravenous injection.
Presentation:
Ampoule bottle x 100 ml.

Formula:
Sorbitol …………………………………………………………. 50 g
Formulation agents q.s. ………………………………. 100 ml
The product must be applied by a Veterinary Doctor.