Vademecum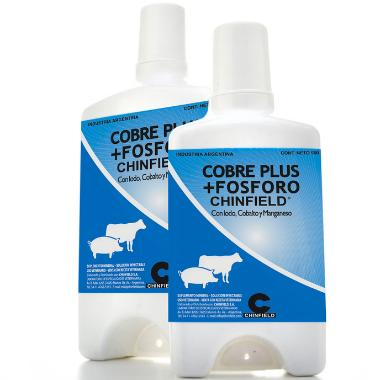 Cobre Plus + Fosforo Chinfield
With iodine, cobalt and manganese. Mineralizing, restorative
Benefits:
Shortage conditions in certain minerals are frequently present, due to deficient nutrition (impoverished soils for geologic or climatic reasons) or to difficulties in their absorption in the animals' digestive tract. Usually, these deficits are difficult to diagnose because of their polymorph symptoms or because they appear as subclinical settings inducing to an error in their accurate determination. COBRE PLUS + Fosforo Chinfield® provides indispensable minerals in the form of delayed action complex compounds which ensure suitable levels to keep the physiological functions for a long time, and being a choice product in those areas where the deficit of phosphorous and copper represent a significant limit to the production, in addition to providing iodine, cobalt and manganese.
Indications:
Adjuvant in cases of fertility reduction, hypothyroidism, anemias, bone diseases (spontaneous fractures in calves, joint deformations), pica. Coadjuvant when it is needed to increase phosphorus, copper, iodine, cobalt and manganese during pregnancy, breast-feeding, growth, fattening, convalescences, pre-birth and pre-service, pre and post weaning. Acute or chronic shortage conditions. Sterility in females due to shortages. Chichaga del litoral.
Target species:
Bovines, pigs.
Posology, dosage and administration:
BOVINES: 1 ml every 100 klw, subcutaneous injection on the flabby part of the neck, or intramuscular.
PIGS: 0,5 ml every 25 klw, intramuscular, behind the neck.
Interval of 30 to 45 days that may be modified because of application strategy, or according to the shortage condition and the Veterinarian's criteria.
Presentation:
Ampoule bottle x 250 and 500 ml.
Formula:
Glycine …………………………………………………………… 10 g
Sodium phosphate ……………………………………….. 20 g
Sodium and copper edetate …………………………. 5 g
Potassium iodine ………………………………………….. 0.25 g
Sodium and cobalt edetate …………………………… 3 g
Sodium and manganese edetate …………………. 2.5 g
Formulation agents q.s. ……………………………….. 100 ml
Warnings:
Prior determination of the type of mineral shortage is suggested. Do not administer to tired or exhausted animals. In this case, leave them to rest and then administer. Avoid increasing the dosage in very young animals.
The product must be applied by a Veterinary Doctor.