Vademecum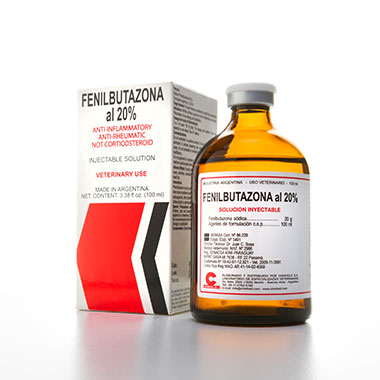 Fenilbutazona al 20%
Non-steroid antiinflammatory and antirrheumatic
Benefits:
FENILBUTAZONA al 20% is a powerful antiinflammatory and antirrheumatic based on sodium phenylbutazone for the treatment of rheumatism in all its forms and localizations. The product attacks the trio muscular inflammation-pain-spasm, removing the inflammation and spasm, thus making pain disappear, myoarticular function reestablish. Muscular tone becomes normal.
Indications:
Arthritis. Arthrosis. Acute and chronic inflammatory processes. Rheumatisms of any etiology and localization.
Target species:
Sport and working equines not intended to human food consumption.
Posology, dosage and administration:
2 ml to 4 ml every 100 k.l.w. per day or according to the Veterinarian's prescription. SLOW intravenous injection.
Presentation:
Ampoule bottle x 100 ml.
Formula:
Sodium phenylbutazone ……………………………….. 20 g
Formulation agents q.s. ………………………………… 100 ml
The product must be applied by a Veterinary Doctor.