Vademecum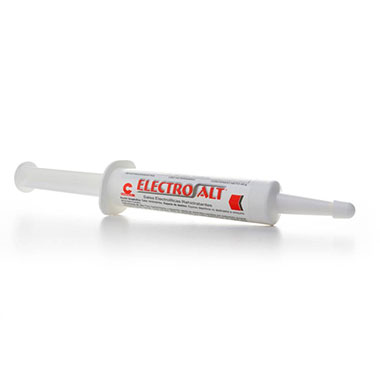 Electrosalt
Rehydration electrolytic salts
Benefits:
The electrolytes act in the metabolism, breathing, secretion and really in each aspect of the organic function. They have great mobility in the body and that turns them into ideal executors of regulating mechanisms when they are in suitable concentrations, which may vary due to the alteration of the body water volume. The replacement of electrolytes in case of significant losses through sweating, urine (due to the use of diuretics), diarrheas, etc. is absolutely important to prevent dehydration, as the simple administration of water may aggravate this dehydration installed by the excretion of more electrolytes in the increased urine output, with the consequent increase in the electrolytic imbalance. The equine sweat contains large amounts of sodium chloride, potassium, calcium and magnesium in its composition and according to the quantity of losses of these electrolytes disorders of different magnitude occur.
Indications:
For the maintenance and quick replacement of electrolytes lost due to sweating, urine depletion caused by the use of diuretics. As coadjuvant in cases of diarrhea, heat strokes, stress, dehydration.
Target species:
Sport and working equines not intended to human food consumption.
Posology, dosage and administration:
40 g for an equine of up to 500 kg or according to the
Veterinarian's prescription.
Physical exercise developed in a single stage (turf, trot, and jump):
40 g at the end of exercise.
Physical exercise developed in a single stage but with the administration of a diuretic: 40 g 2 hours before the test and 40 g after its completion.
Long duration aerobic physical activity with intervals (endurance, marches): 40 g 1 hour before the test, 40 g during the activity, according to the Veterinarian's criterion, and 40 g at the end of the activity; the dosage and the interval may be modified according to the Veterinarian's criterion and the clinical condition to treat.
Presentation:
Plastic syringes containing 40 g.
Warnings:
Have water available once the product has been administered.
Formula:
Potassium chloride ……………………………… 15 g
Sodium chloride ………………………………….. 35 g
L glycin ………………………………………………… 4 g
Calcium carbonate ……………………………… 2.7 g
Magnesium oxyde …………………………….. 0.33 g
Glucose ……………………………………………… 2 g
Formulation agents q.s. ……………………. 100 g
The product must be applied by a Veterinary Doctor.