Vademecum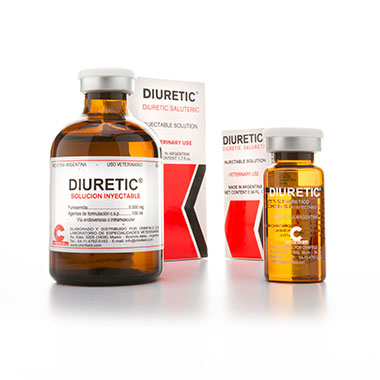 Diuretic
Powerful diuretic – saluretic
Benefits:
There is a pathophysiological entity characterized by water retention in different tissues, the edema, whose basic medication is mainly based on the excretion of that water surplus through the renal system, by means of drugs that increase the diuretic activity, the so called diuretics. DIURETIC significantly increases water excretion through the renal system (renotropic activity) and, what is more important for the treatment of edema, the excretion of sodium through the same route, as water follows it passively due to the osmotic activity. DIURETIC is one of the most powerful diuretics – saluretics. Thanks to its administration, edema and its concomitant effects are eliminated in a short time, keeping potassium excretion at a low level. DIURETIC's powerful activity enables to manage urine output as necessary, adapting the dose to be administered according to the severity and evolution of the disease.
Indications:
Edemas of any etiology and localization: renal, brain, heart, pulmonary, due to vascular obstruction. Hypertension, exercise induced pulmonary hemorrhage (EIPH).
Udder and postpartum edema.
Target species:
Sport and working equines not intended to human food consumption. Bovines, Canines, Felines.
Posology, dosage and administration:
Equines and Bovines: 0.4 to 1.2 ml every 100 klw (20 to 60 mg of furosemide), 1 to 3 times a day, as needed or according to the Veterinarian's prescription.
Canines and Felines: 0.04 to 0.1 ml every 1 klw (2 to 5 mg of furosemide) or according to the
Veterinarian's criterion.
Intravenous or intramuscular injection according to the need and urgency.
Presentation:
Ampoule bottle x 10 ml and 50 ml.
Formula:
Furosemide ………………………………………………….. 5 g
Formulation agents q.s. …………………………….. 100 ml
The product must be applied by a Veterinary Doctor.