Vademecum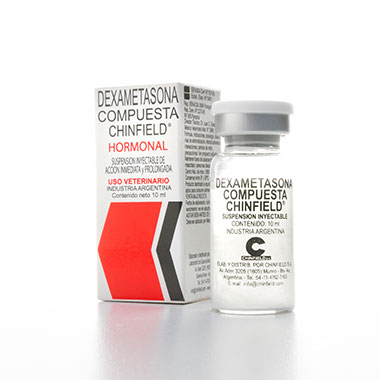 Dexametasona Compuesta
Chinfield Antiinflammatory – Antialergic
Benefits:
DEXAMETASONA COMPUESTA Chinfield, due to the association of three corticoids, covers the broadest spectrum of inflammatory conditions. Its biphasic activity (immediate and delayed) ensures the quickness and persistence of its activity.
Indications:
Inflammatory processes of any etiology and localization, especially those of
collagen. Allergy conditions. Rheumatic diseases. Acute and chronic joint pains.
Target species:
Sport and working equines not intended to human food consumption.
Posology, dosage and administration:
SPORT EQUINES: 2 to 5 ml a day, or every other day, or according to the Veterinarian's prescription. Intramuscular, intraarticular route, in tendon
sheaths, and in bursas. In infiltration applications, alone or combined.
Presentation:
Ampoule bottle containing 10 ml.
Warnings:
In prolonged treatments, it is not recommended to discontinue the treatment abruptly, because of the risk that some depression of adrenal glands had occurred.
Do not administer to animals in their third gestation quarter because the dexamethasone might cause the induction of undesired premature delivery.
Mares are more resistant to this effect, as they require at least 100 mg doses of IM dexamethasone on three consecutive days to achieve it, because this drug does not cross the placental barrier in this species.
Formula:
Base Dexamethasone ………………………………………. 45 mg
Dexamethasone 21 Phosphate ………………………… 45 mg
Triamcinolone …………………………………………………… 10 mg
Formulation agents q.s. ……………………………………. 10 ml
IMPORTANT:
SHAKE BEFORE USING. The product must be applied by a Veterinary Doctor.