Vademecum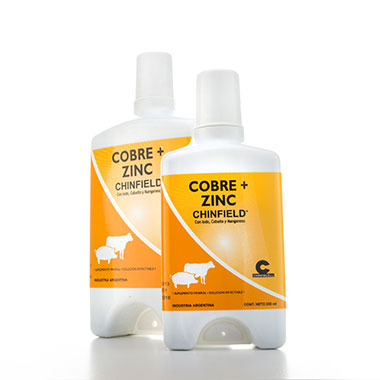 Cobre + Zinc Chinfield
With iodine, cobalt and manganese. Injectable mineral supplement
Benefits:
Mineral deficit often appears in subclinical conditions to a lesser or greater extent, according to the importance of the shortage in feeding. But many times there is no coexistence with insufficient quantity of food, but cases in which, despite the presence of sufficient values, it cannot be assimilated by the body, precisely due to unbalances between the mineral compounds which prevent this from occurring. An example of this is when the presence of molybdenum is very high and prevents the proper absorption of copper. COBRE + ZINC Chinfield provides the necessary minerals as retarded action derivate and in appropriate dosage to make administration simpler, at the same time that it obtains a quick response in the treated animals.
Indications:
Deficit of copper, zinc, iodine, cobalt and manganese. Restorative. Reproduction disorders originated in deficits of any of the minerals supplied by the product. Defficiency bone diseases.
Target species:
Bovine, pigs.
Posology, dosage and administration:
Calves up to 200 kg: 1 ml every 50 klw.
Steers and Heifers: 5 ml as a total dose.
Cows: 6 ml as a total dose.
Bulls: 8 ml as a total dose.
All the categories: coinciding with immunizations, dewormings, etc.
Heifers for service: 60 days prior to service.
Pregnant cows: 60 days before delivery.
Postpartum females: 20 – 30 days to improve entry to service.
Calves: 30 to 60 days old and at weaning.
Bulls: Entry to service, during service and at exit.
Pigs: 0.5 ml every 25 klw (maximum 2 ml). Subcutaneous.
Suggested application strategy:
Presentation:
Vial containing 250 ml and 500 ml.
Formula:
Sodium and copper edetate ……………………. 2,500 mg
Sodium and cobalt edetate …………………….. 3,000 mg
Sodium and manganese edetate ………………. 500 mg
Sodium and zinc edetate …………………………… 200 mg
Potassium iodide ……………………………………….. 50 mg
Formulation agents q.s. …………………………….. 100 ml
Warnings:
Prior determination of mineral shortage is suggested.
Do not apply to tired or exhausted animals. In this case, leave them to rest and then administer.
Avoid increasing dosage in very young animals.
The product must be applied by a Veterinary Doctor.