Vademecum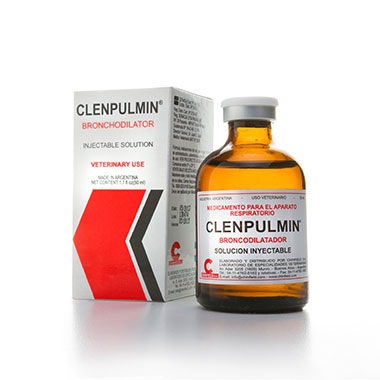 Clenpulmin
Bronchodilator
Benefits:
Bronchodilation activity of the clenbuterol hydrochlorate makes CLENPULMIN® a choice product for the treatment of respiratory diseases with bronchospasm symptoms and of all those diseases in which bronchospasmolytic effect therapy favors their solution. Its activity is efficiently shown in acute as well as respiratory diseases, allowing its use in urgent symptom therapy or prolonged treatments.
Indications:
Bronchospasm. Bronchitis. Bronchiolitis. Chronic Obstructive Pulmonary Disease.
Respiratory allergies of different etiologies. As coadjuvant of the antibiotic treatment in bronchopulmonary infections and exercise induced pulmonary hemorrhage (EIPH).
Target species:
Sport and working equines not intended to human food consumption.
Posology, dosage and administration:
2.5 ml every/100 k.l.w. (0.8 µg/k.l.w.) twice a day.
Presentation:
Ampoule bottle x 50 ml.
Formula:
Clenbuterol ………………………………………………….. 3,2 mg
Formulation agents q.s. ………………………………. 100 ml
The product must be applied by a Veterinary Doctor.