Vademecum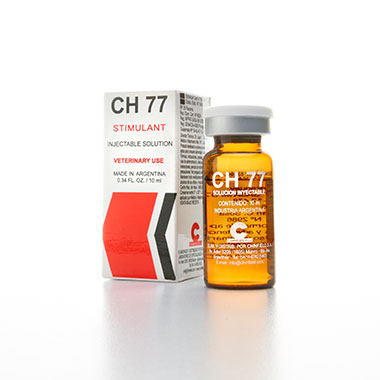 CH 77
Active stimulant
Benefits:
CH 77® is a strong stimulant based on Magnesium Ascorbate and another active ingredient, such as Nikethamide which reinforces its activity, increasing working capability and muscle resistance. It keeps breathing rate normal, compensates the excess of cardiac work, and reduces fatigue. CH77® provides the animal with the needed vigor and energy to meet the test demand.
Indications:
To activate animals weakened by age, disease, excessive work, acute respiratory failure, depression due to anesthetics.
Target species:
Sport and working equines not intended to human food consumption.
Posology, dosage and administration:
2 ml/100 klw.
Physically impaired animals: 5 ml, every other day, in series of 10 to 20 injections or as needed. Intramuscular injection. Dosage may be modified according to the Veterinarian's criteria.
Presentation:
Ampoule bottle x 10 ml.
Formula:
Ascorbic acid ……………………………………………………… 10 g
Magnesium hydroxide ………………………………………. 1 g
Nikethamide……………………………………………………….. 15 g
Formulation agents q.s. ………………………………… 100 ml
The product must be applied by a Veterinary Doctor.