Vademecum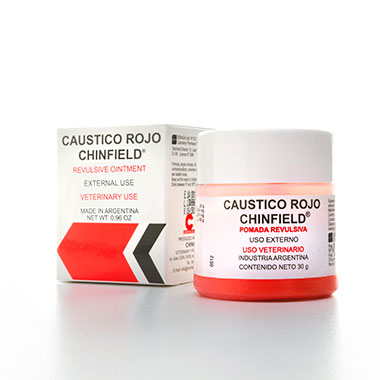 Caustico Rojo Chinfield
Ointment – External use
Benefits:
CAUSTICO ROJO Chinfield®, applied on the affected area, causes a noticeable blood inflow (hiperhemiant activity), with release of histamine and histaminoid substances and finally a non-specific protein therapy, resulting in a rapid improvement and subsequent full recovery of the animal. The slow and regulated absorption of croton oil and formic acid ensures a high and constant blood flow to the affected area. In this manner, the factors causing the disorder are eliminated and a better and quicker process cure is achieved.
Indications:
Local use revulsive for the treatment of inflammatory and painful chronic processes.
Target species:
Sport and working equines not intended to human food consumption.
Posology, dosage and administration:
Remove hair from the area to be treated with CAUSTICO ROJO Chinfield®. Apply with a brush rubbing for 3 to 5 minutes. Wait for 24 hours to assess the effect, and if needed, repeat the procedures. It is recommended to edge the affected area with Vaseline to avoid the caustic spilling. 5 or 6 days after, wash with warm water and soap. Disinfect and keep clean until complete flaking off.
Warnings:
Do not apply on open wounds. Be sure the animal cannot bite the area. Use protection gloves.
Presentation:
Jar x 30 g.
Formula:
Mercury Di-Iodide ………………………………………………….. 20 g
Croton oil ………………………………………………………… 1,000 mg
Formic Acid ……………………………………………………….. 200 mg
Formulation agents q.s ……………………………………….. 100 g
The product must be applied by a Veterinary Doctor.