Vademecum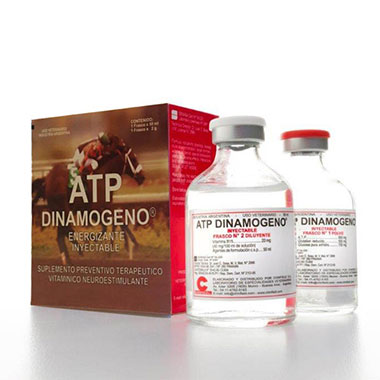 ATP Dinamogeno
Muscular energizer
Benefits:
In the sport equine, ATP DINAMOGENO stimulates muscular work through biochemical mechanisms and keeps a longer suitable energetic reserve during the test, enabling that fatigue appearance is retarded, with the consequent benefit implied.
Indications:
Preparation for the event. Dystrophies and muscular pain, and whenever
it is necessary to increase muscular work level. Physical exhaustion. Overtraining.
Neuromuscular tonic.
Target species:
Sport and working equines not intended to human food consumption.
Posology, dosage and administration:
2 cc every 100 kg of weight (10 ml for an animal of 500 kg), daily or on alternate days, series of 5 to 10 applications or according to the Veterinarian. With a sterile syringe, move the solvent to the powder vial, and shake until dissolving. Once the solution is prepared, the remaining doses (if there are any) store in the fridge for not more than 15 days. SLOW intravenous injection. The diluted dose may be administered in a sachet of saline solution.
Warnings:
Do not mix with other medications.
Presentation:
Box containing 1 Ampoule bottle x 2 g and 1 ampoule bottle x 50 ml.
Formula:
Ampoule bottle N¼ 1 (POWDER 2 g)
ATP……………………………………………………………. 800 mg
Reduced glutathione ………………………………. 500 mg
Pure glucose …………………………………………… 700 mg
Ampoule bottle N¼ 2 (SOLVENT 50 ml)
Vitamin B15 …………………………………………….. 20 mg
Formulation agent q.s. ……………………………. 50 ml

The product must be applied by a Veterinary Doctor.