Vademecum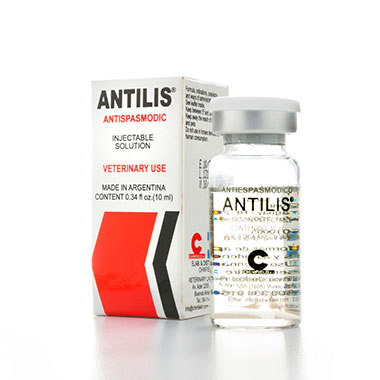 Antilis
Quick and powerful spasmolytic activity
Benefits:
ANTILIS is a powerful and effective spasmolytic, myorelaxant and analgesic activity, especially adapted for the sport equine, which action focuses on the smooth fiber anatomic structures innervated by the neurovegetative system: gastrointestinal, bile duct, urinary tract, uterus, etc. Upon its administration, spasmodic colics are quickly relieved, (Not use in obstructive colics) and in general, totally and definitively, with the animal's recovery.
Usually, this result is obtained with the first dose, although, if necessary, the treatment may be repeated one or two hours after the first administration.
Indications:
Gastrointestinal spasmodic colics. Urinary tract spasms (renal gallstones, etc.). Post surgical colics. Cervix or uterine spasms.
Complicated births. Algias of the smooth fiber organs.
Target species:
Sport and working equines not intended for human food consumption.
Posology, dosage and administration: Adult animals:
10 ml or according t the Veterinarian's prescription. Growing animals: 2 ml every 100 kilograms of weight. Intravenous injection (of choice) or intramuscular.
Interval between doses:
Minimum 1 hour between applications.

Presentation:
Ampoule bottle x 10 ml.
Formula:
Hyoscine N- Butylbromide ……………………………….. 1 g
Papaverine Hydrochloride ……………………………….. 1 g
Dipyrone sodium monohydrate………………………… 25 g
Formulation agent q.s ………………………………… 100 ml

The product must be applied by a Veterinary Doctor.