Vademecum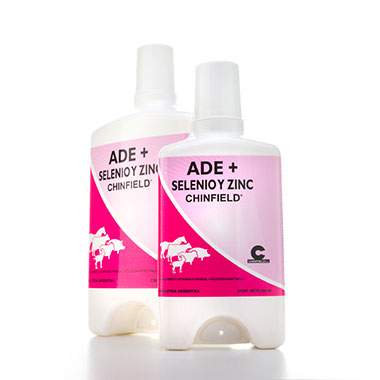 A D E + Selenio y Zinc Chinfield
Mineral vitamin supplement
Benefits:
Besides the importance of vitamins A and D, selenium as well as vitamin E is essential for the appropriate functioning of the immunologic system and antioxidant factors. Selenium is necessary for growth and is closely bound to reproductive efficiency, and its shortage has been related to placental retention, consequent metritis, and mastitis.
Zinc is an essential element in the diet, as the animals suffering from shortage of this oligoelement are affected in their growth, weight gain, alopecia problems, emaciation, pietin, among others, and also as part of the insulin hormone, synthesized by the beta cells of the pancreas islets.
Indications:
Mineral vitamin supplement in cases of vitamin A, D, and E, and minerals
Selenium and Zinc deficiency, which expresses itself with growth and development retardatio in young animals, low fertility rates, early delivery, placental retentions, neonate death, weakness at birth and offspring malformations, ovary hypofunction, testicle degeneration, foot disorders (pietin) and muscular metabolism disorders (Disease of white muscle, stiffness in lambs). Coadjuvant in the preparation of males and females for reproduction.
Target species:
Bovines, sport and working equines not intended for human food consumption, sheep, goats, pigs.
Posology, dosage and administration:
Bovines, equines: 1 – 2 ml every 50 k.l.w.
Sheep and goats: 1 to 2 ml.
Pigs: Piglets under 3 months old: 0.5 ml. Rebreeding: 1 ml, breeding animals: 3-6 ml. The proposed doses may be modified by the Veterinarian.
Subcutaneous (not in equines). Intramuscular (doses higher than 5 ml, distribute into two injection sites). In general, the application may be done every 2 months or before,
according to the Veterinarian's criterion.
During pregnancy:
Bovine females: administer 3 months before delivery, repeat 15 days before delivery, and then 30 days postpartum.
Sheep, goat and pig females: administer 3 weeks before delivery, repeat at the time close to delivery and at weaning.
In dairy farm:
Production animals: administer systematically every 60 days.
Animals to be dried: administer at the time of drying, 15 days before delivery and after 30 days postpartum. Preparation for service:
Males and females: 30-45 days before service.
Presentation:
Ampoule bottle x 250, 500 ml.
Formula:
Vitamin A ……………………………………………………………………….. 0.2 g
Vitamin D2 …………………………………………………………………….. 0.02 g
Vitamin E Acetate ………………………………………………………… 6 g
Sodium selenite ……………………………………………………………. 0.1 g
Zinc gluconate ………………………………………………………………. 4 g
Formulation agents q.s. ………………………………………………. 100 ml

The product must be applied by a Veterinary Doctor.