Vademecum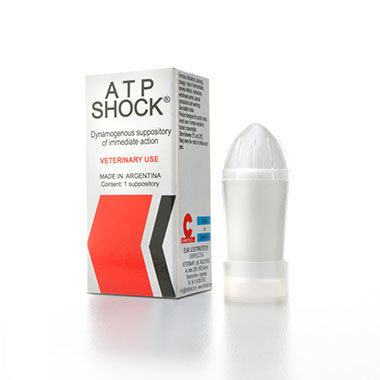 ATP Shock
Invigorating suppositories – quick action
Benefits:
Muscular dynamics is the result of a series of sequential biological reactions carried out in the inner cell, and which consists of taking the chemical energy stored in different substrates, among them, glucose, and transforming it into work, which is valued as physical performance. Such energy coming from the glucose degradation, is obtained thanks to different and complex biochemical mechanisms in which ATP and UTP take part. Glutathione participates in the muscular contraction acting as redox system. ATP SHOCK, due to its quick action, provides the animal the conditions to take advantage of all its potential to the utmost, and enables it to get to the end of the effort having an energetic reserve which trains to keep a steady performance during the entire test.
Indications:
Quick-action unspecific tonic. Weakness conditions. Overtraining. All types of excessive labor. Any time it is necessary to increase muscular work level.
Target species:
Sport and working equines not intended for human food consumption.
Posology, dosage and administration:
1 suppository two or three hours before testing or according to the Veterinarian's prescription.
Presentation:
Box containing 1 suppository x 8 g.
Formula:
ATP …………………………………………………………….. 250 mg
UTP ……………………………………………………………. 50 mg
Glucose ……………………………………………………… 250 mg
Glutathione ………………………………………………… 250 mg
Formulation agents q.s. ……………………………. 8 g

The product must be applied by a Veterinary Doctor.