Vademecum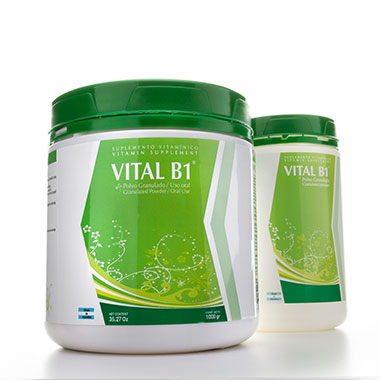 Vital B1
Natural yeast-based and Vitamin B1 enriched polyvitamin and energizer
Benefits:
The yeast is the richest source of Vitamin B1. It contains 45% of proteins and also provides other Vitamins of group B, important amounts of essential aminoacids, minerals and trace elements. It acts as catalyst in the metabolism of carbohydrates, making them release their energy. Essential in the synthesis of substances that regulate the nervous system.
Essential in the treatment of nervous inflammations. It favors the maintenance of good cardiovascular health regulating the heart rate and strengthening muscles.
VITAL B1 is a natural, non-toxic and free from complications product. It improves the liver functioning helping to improve appetite and weight gain. It improves the behavior in nervous and excitable animals and is the natural antineuritic par excellence. Its inclusion in the daily diet of the equine athlete, increases vital tone, improves performance and response to effort, favoring optimum general status. Normalizer of the intestinal flora.
Indications:
In thiamine deficit, breast-feeding, pregnancy, growth, hard work, overtraining, nervous and excitable animals. Normalizer of the intestinal flora.
Target species:
Sport and working equines not intended to human food consumption.
Posology, dosage and administration:
5 g per each 100 kg. (1 dosage measure = 25 g for an adult equine weighing 500 kg). It may be increased according to the Veterinarian's criterion.
In nervous or excitable animals, administer 50 g daily in two intakes. Administer every day during 20 running days. Repeat according to the Veterinarian's criterion.
Presentation:
Jar x 1000 g with 25 g dosifier.
Formula:
Thiamine hydrochlorate ……………………………… 4 g
Dried yeast ………………………………………………….. 48 g
Corn starch …………………………………………………. 12 g
Icing sugar ………………………………………………….. 36 g
The product must be applied by a Veterinary Doctor.