Vademecum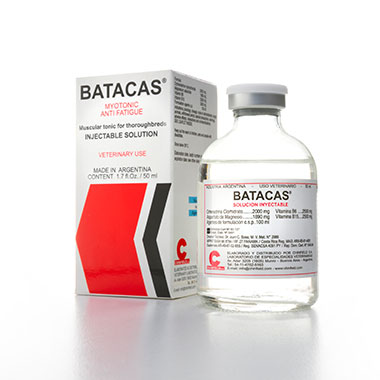 Batacas
Muscular tonic
Benefits:
The thoroughbred (Tb) work is almost exclusively muscular and of great effort.
For that reason, the animal is constantly exposed to muscle-skeletal disorders that appear as fatigue, contractures, cramps and pains which reduce the performance significantly. BATACAS® is a powerful relaxant and muscular tonic. It works selectively over the central nervous system reducing the hyperactivity of the striated muscle, producing relaxation, but without altering its muscular tone, "thus breaking the vicious circle contracture-pain-contracture", facilitating and increasing blood irrigation, oxygenation and accelerating the elimination of metabolites, placing the animal in optimum conditions and the plenitude of its strength.
Indications:
Animals subject to physical efforts due to training, competitions, demanding work, etc. To shorten the recovery time in animals that had suffered a disease, accidents, contractures, tying-up, myositis, acute muscular spasm.
Target species:
Sport and working equines not intended to human food consumption.
Posology, dosage and administration:
2 ml every 100 klw daily during 3 or 5 running days or according to the Veterinarian's criterion. SLOW intravenous injection.
Warning:
The eventual appearance of cough after the application is not significant.
Presentation:
Ampoule bottle x 50 ml.
Formula:
Vitamin B6 ……………………………………………………. 2,500 mg
Vitamin B15 ………………………………………………….. 2,500 mg
Orphenadrine ……………………………………………….. 2,000 mg
Aspartate Magnesium ………………………………….. 1,890 mg
Formulation agents q.s. ………………………………… 100 ml

The product must be applied by a Veterinary Doctor.